I'm here to bring you my first sponsored lenses review. These were sent to me by
mukuCHU
circle lenses! 
I will be reviewing the red lenses in the Big Candy series. (G-205)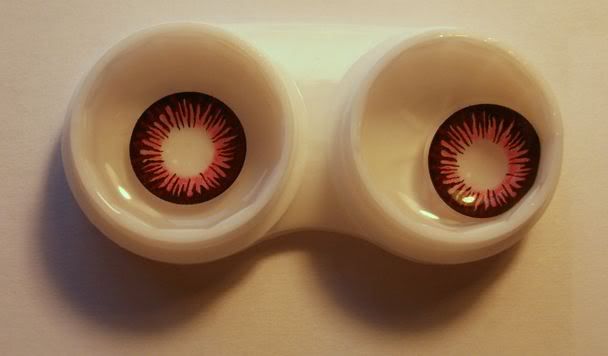 POWER/PRESCRIPTION:

 

0.00 (Plano) to -10.00
LENS USAGE: UP TO 1 YEAR
SHELF LIFE: 3 YEARS
MANUFACTURER / ORIGIN: SOUTH KOREA
MATERIALS: 2Hema
B.C.: 8.6mm
DIAMETER: 14.50mm 
WATER CONTENT: 38%
I was really excited to get these because these were the lenses I was going to use for my Black Gold Saw cosplay! I've used Animation lenses before (for my Suiseiseki cosplay) but I wasn't really looking forward to having bright red eyes again. (Animation lenses were uncomfortable and made my eyes really light sensitive.) 
I chose to review this pair because of the size (never tried 14.5mm before!) and the colour, which looked more like a blendy red than a bright red.
(Lighting made the one on the right appear lighter.)
No flash, natural light, no makeup.
 The red isn't really as noticeable, but the black ring definitely is! I wasn't really used to such large lenses so I stared at my eyes in the mirror for like, 5 minutes! Ha!